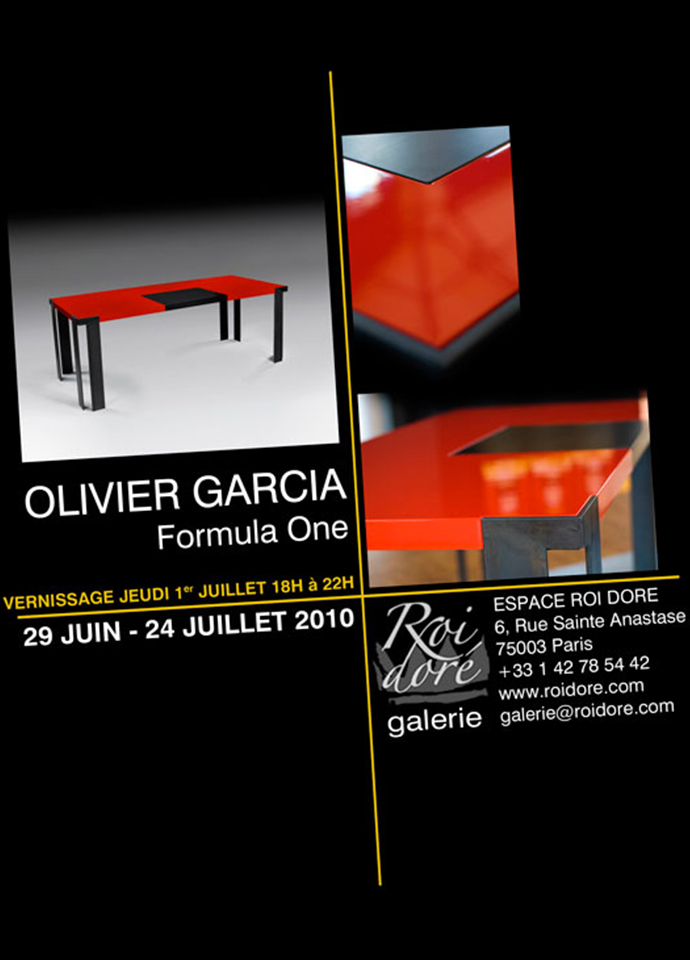 Olivier Garcia "Formula One"
The exhibition presents a selection of designer furniture by Olivier Garcia. The artist offers a very personal interpretation of materials and colors of the pinnacle of the automotive world: Formula 1. The "Formula One" concept originated from a simple idea: using the materials and fabrics of the automobile industry as an inspiration for interior design. Why? As the artist explains: "I've always been fascinated by the world of F1, with its state-of-the-art technology and its bright colors. So recently I decided to start incorporating these colors into my furniture".
Industrial lacquer (enamel) is affixed in successive layers on the desks, coffee tables, side tables, bed and luminaries designed by Olivier Garcia. The designer uses the colors of the Formula 1 teams as his source of inspiration: red and yellow for Ferrari, bleu for Renault, green for Jaguar, metallic grey for Mercedes… Bright tones highlighted by ebony fixtures and geometric lines are the hallmark of these very functional pieces of furniture.
"Formula One" for Formula 1, but also "One" for a unique piece, a concept which Olivier Garcia is particularly fond of.
Exhibition from June 29th 'till July 24th, 2010.
Opening on July 1st, 2010.