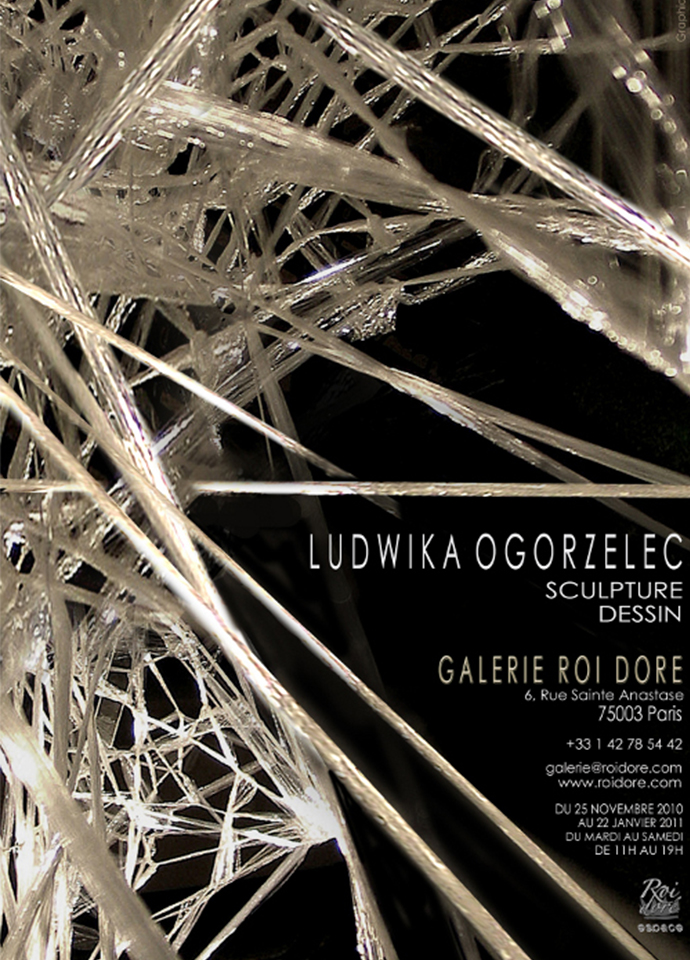 Ludwika Ogorzelec "Space Crystallization"
The Galerie Roi Doré presents the exhibition "Space Crystallization" by Ludwika Ogorzelec, offering a selection of the artist's drawings and sculptures, both from the "Instruments of equilibrium" series and from her most famous series, called the "Space crystallization". As is the most often with the sculptures from this series, the artist created for the exhibition the work in situ, forming it from repeatedly intersecting lines that mark the edges of the three-dimensional space (hence the name of the series). Indeed, the material of Ogorzelec' sculptures is the space itself and the lines of wood, metal or glass are only a contour of the "space crystallization".
Ludwika Ogorzelec is a Polish sculptor, living and working in Paris since 1985. She was born in 1953 in Chobienia, Poland.  She graduated from the Fine Arts Academy in Wrocław (1978-1983), where she studied under prof. Leon Podsiadly. She also studied at the Ecole Nationale Superieure des Beaux-Arts in Paris (1985-1987) in the studio of the famous French sculptor César.
Her works have been presented at many individual and group exhibitions in galleries and museums, in France, Sweden, the United States, Greece, Spain, Switzerland, Belgium, Japan, Germany, Italy, Lebanon, Costa Rica, and Poland.
Exhibition from November 25th, 2010 'till January 22nd, 2011.