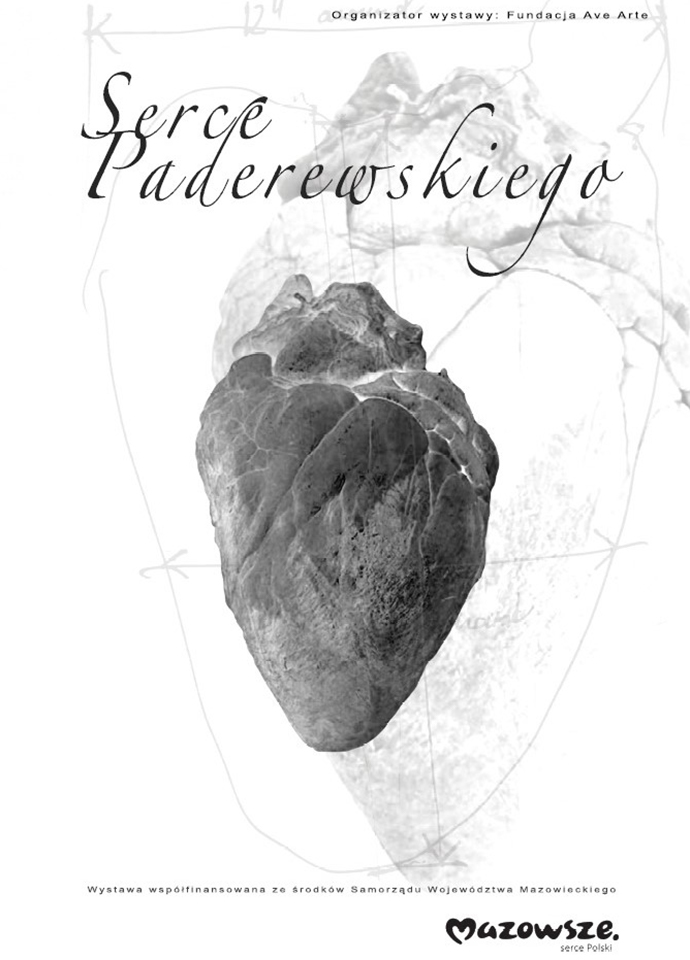 Heart of Paderewski
The inspiration for the exhibition came from the posthumous story of Ignacy Jan Paderewski – the artist's heart and body have come a long way since his death in 1941, before finding a final resting place. On his death bed, Ignacy Jan Paderewski had expressed to his sister, Antonina Paderewska Wilkońska, his last wish: "I give my heart to the Polonia (Polish community abroad) and I wish that my body returns to free Poland".
Paderewski's funeral was organized by Jan Smolenski, owner's of a funeral home in New York. According to the composer's last wish, he removed the heart of the deceased, embalmed him and waited for the following instructions, which never came – Paderewski's sister died four months after his brother. Smolenski, therefore, placed the heart of Paderewski at the mausoleum of the Cypress Hills Cemetery in Brooklyn, New York. After his death in December 1945, no one knew where the Paderewski's heart was kept.
The accidental discovery of it was made in 1959 by Conrad J. Wyck and Henryk Archacki. Henryk Archacki, an ardent patriot, set out to find a burial place worthy of the artist's heart. In 1983, the American Congress of Polonia created the Committee of the Heart of Paderewski, whose president was, of course, Henryk Archacki. Three years later it was decided that the best place to bury the heart would be the National Shrine of Our Lady of Czestochowa in Doylestown, Pennsylvania.
The urn with the master's heart was transported on June 21st, 1986, to the studio of sculptor Andrzej Pityński at the Johnson Atelier Technical Institute of Sculpture in Mercerville (New Jersey). A seven-person committee undid the thick rolls of gauze to uncover the heart of Paderewski. It was then rewrapped in fresh gauze, consecrated by Father Lucjusz Tyrasiński, director and curator of the National Shrine of Our Lady of Czestochowa in Doylestown, and placed and sealed in a new urn designed by Andrzej Pityński. A report signed by witnesses to the event was also placed in the ballot box. On the same day, the urn was transported to the Sanctuary in Doylestown. The unveiling and inauguration ceremony took place on June 29th, 1986, the 45th anniversary of the death of Paderewski.
The exhibition was prepared thanks to the unique collection of private archives of George Koss – photographer and historiographer from New York, member of the Paderewski Heart Committee, who unfortunately died recently. The rest of the news came from the Jozef Pilsudski Institute of America (New York), the Polish Museum of America (Chicago), and the Polish Press Agency.