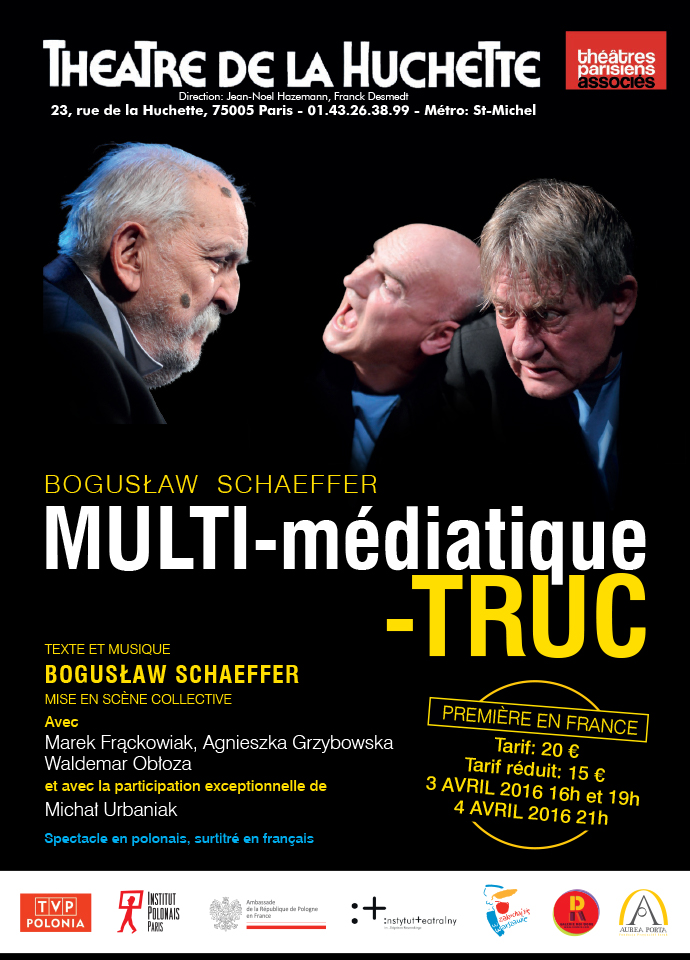 Boguslaw Schaeffer "Collages and graphic music scores"
The exhibition presents the graphic work of this interdisciplinary and avant-garde artist with unconventional aesthetics. It is a part of a multi-event promotion of the various aspects of Boguslaw Schaeffer's work – organized by Aurea Porta Foundation in partnership with the TVP Polonia, the Polish Embassy in Paris, the Polish Institute in Paris, Zbigniew Raszewski Theatre Institute and the City of Warsaw – and in which the play presented at Théâtre de la Huchette on April, 3rd, and 4th, 2016, will be the main event.
Boguslaw Schaeffer's collages, realized on the fringe of his reflection as a composer and playwright, are undoubtedly inspired by both of the areas, since those « musical » abstract images, geometric or organic, are made up of words, signs and musical notes.
Composer, musicologist, pianist, playwright and theatre director, Boguslaw Schaeffer (born in 1929) is a visionary artist and a major figure of Polish culture. Pioneer of electronic music and of instrumental theatre in Poland, he is author of more than forty plays, translated into seventeen languages and of countless articles and many books about contemporary music. He is also known for his teaching work: for many years he was a professor at both Music Academy and University in Cracow and at the prestigious Hochschule für Music in Salzburg and Mozarteum in Salzburg (among others). He received numerous composition and theatre awards, medals and official honors.
Exhibition from April 15th 'till May 14th, 2016.