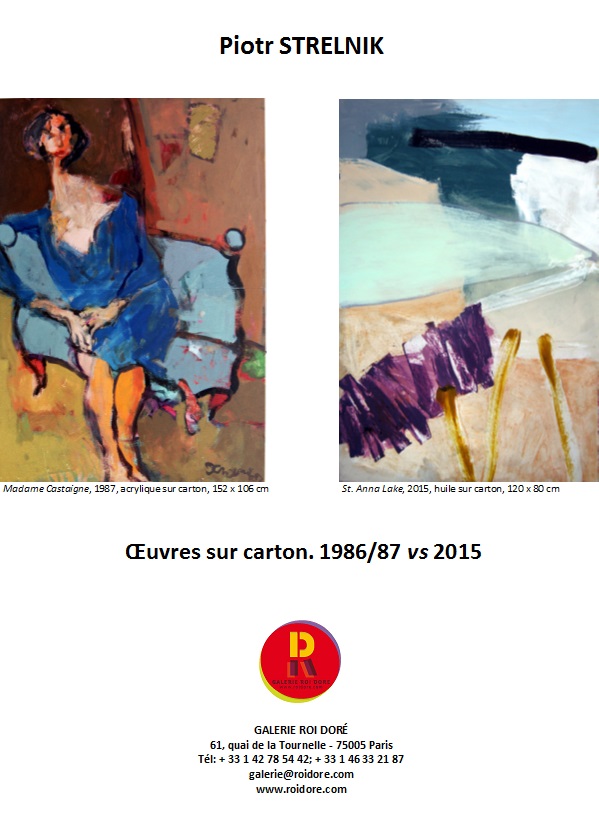 Piotr Strelnik "Works on cardboard. 1986/87 vs 2015"
The exhibition Piotr STRELNIK – Works on cardboard. 1986/87 vs 2015 presents the artist's evolution focusing on two key periods of his career. His works from the mid-1980s are opposed to his recent creations, the figurative to the non-figurative.
In his earlier paintings, the human figure is already reduced to large areas of strong colors, but it is still obvious and easily recognizable. In his recent works, the identifiable motifs disappear completely and one can only sometimes guess few bits and pieces of landscapes in the broad surfaces of relative uniform colors and in the powerful strokes, as Piotr STRELNIK dissolves forms in favor of touch, gesture and passes from perspective to a suggestion of depth. However, both his figurative or non-figurative works are characterized by the simplicity and the harmony of the composition. As the artist said "My approach is to explore and exploit the conventional means of the painting to bring it beyond what is visible to the eye, reducing at the same time the technical and pictural means. I try to reach other sensations, not only those that the eye can provoke".
Piotr STRELNIK was born in 1956 in Lublin. He studied at Fine Arts Academy in Warsaw where he specialized in graphic arts. He lives and works in Paris since 1983, where he devoted himself to painting.
Exhibition from April 15th 'till May 14th, 2016 at the Gallery Roi Doré – 61, Quai de la Tournelle.
Opening on Thursday, April 14th, 2016.