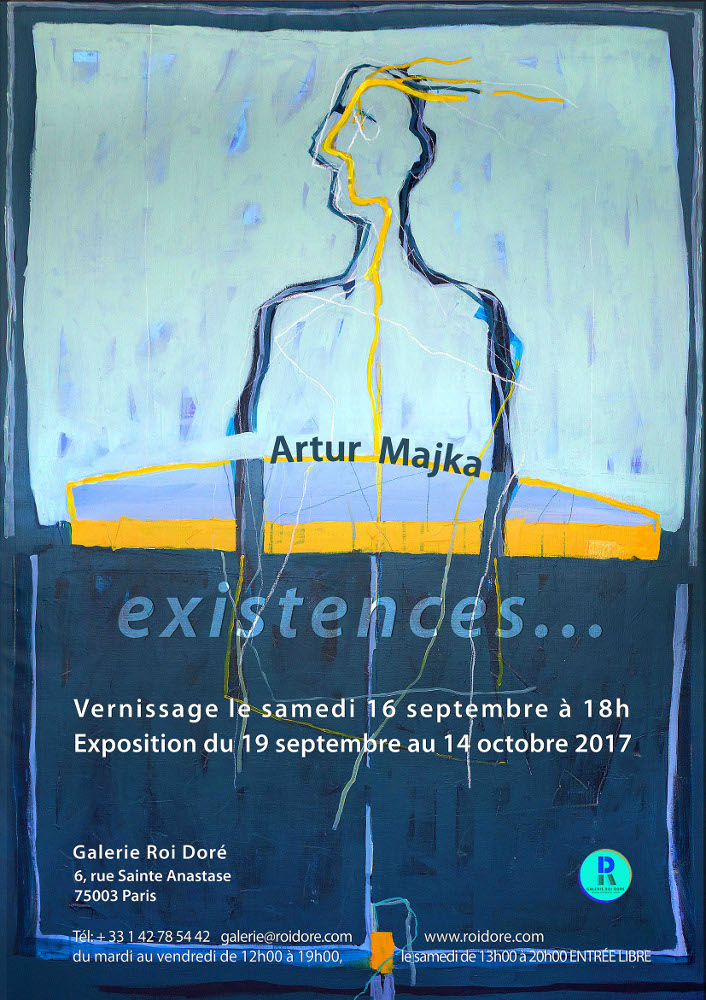 Artur Majka "Existences…"
The exhibition "Existences…" presents Artur Majka's latest works, which include both monumental canvases and intimate compositions; paintings and wooden or metal spatial structures. Regardless of size and technique, the human being always remains at the heart of the artist's interests, both in the works where strong lines and color contrasts create the outline of human figures and in those where the human form is not present. However, the emptiness left behind – a solitary chair in an empty space – brings him to mind just as bluntly as his presence.
In his works, Artur Majka concentrates on various forms and stages of human existence in the most basic sense – existence and non-existence, presence, and absence. Although both the subject and the stylistics of the presented works are typical of Artur Majka's research, the exhibition "Existences…" proves the artist's constant development. His recent works reveal a maturity, a deep reflection – from a visual and conceptual point of view.
Artur Majka was born in 1967 in Tarnow, Poland. Painter, illustrator, photographer, and architect, he lives and works in Paris. He graduated from Polytechnic School in architecture in Cracow and from École Nationale Supérieure des Beaux-Arts in Paris. This versatile training is reflected in his art, both through the use of different techniques including acrylic painting, photography or silk-screen printing, and many more, but also by the diversity of his professional experiences. Indeed, Artur Majka is not only a painter and photographer but he also works as a graphic designer: he realizes illustrations for various publications and he is the author of many posters. Moreover, he often mixes several techniques and styles in the same work, which allows him to obtain a plastic and aesthetic originality, and gives him a new artistic dimension.
In June 2017, he won the 3rd edition of the Tadeusz Malinski "NanoArt" Contest, with his sculpture "The Parallel Existences".
Exhibition from September 19th 'till October 14th, 2017.
Opening on Saturday, September 16th, 2017.