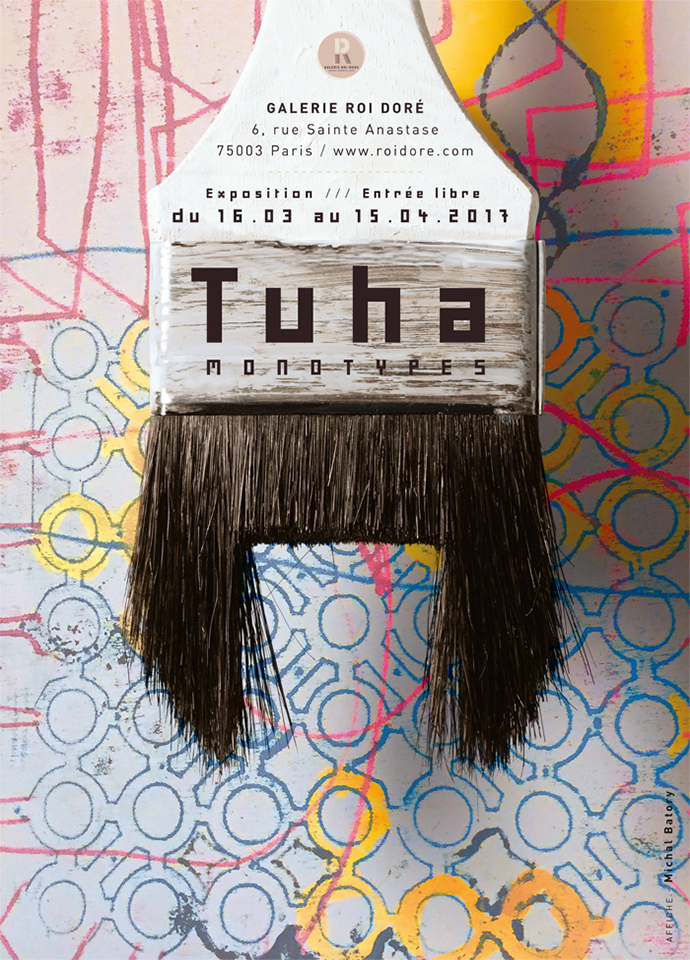 Justyna Tuha "Monotypes"
The exhibition presents the recent works (2013-2017) of Justyna TUHA, a Polish artist, born in 1956 in Katowice, living and working in Germany since 1986 (currently in Düsseldorf).
Non-figurative painter but remaining attached to reality nevertheless, Justyna TUHA favors in her work the technique of monotype, a process of printing without engraving, producing a single print. Located somewhere between the print and the original, this technique allows the artist to create complex compositions, where the line is no longer a decorative element, but it structures and rhythms the composition. Moreover, the artist makes judicious use of color, sometimes seeming secondary to the line – but playing an important constructive role – other times invading large surfaces like in Colorfield painting. Using these two elements, and because of the particularity of the technique which introduces an element of the accident into the artistic process, TUHA creates works becoming independent worlds; surprising and complex structures where a spontaneous gesture deconstructs the form's discipline.
However, if the form and technique – brilliantly used – are essential, the artist is still immersed in the reality, drawing her inspiration from the poetry of the contemporary world. Using the contemporary symbols, codes and logotypes, TUHA evokes in her works the patterns bearing traces of everyday life and thus questioning the visual habits of the contemporary man, attacked from all sides by optical stimuli. Through her monotypes, often realised by series, the artist invites us to a graphic, poetic and symbolic journey, of which the line is a starting point.
Exhibition from March 16th 'till April 15th, 2017.
Opening on Thursday, March 16th, 2017.