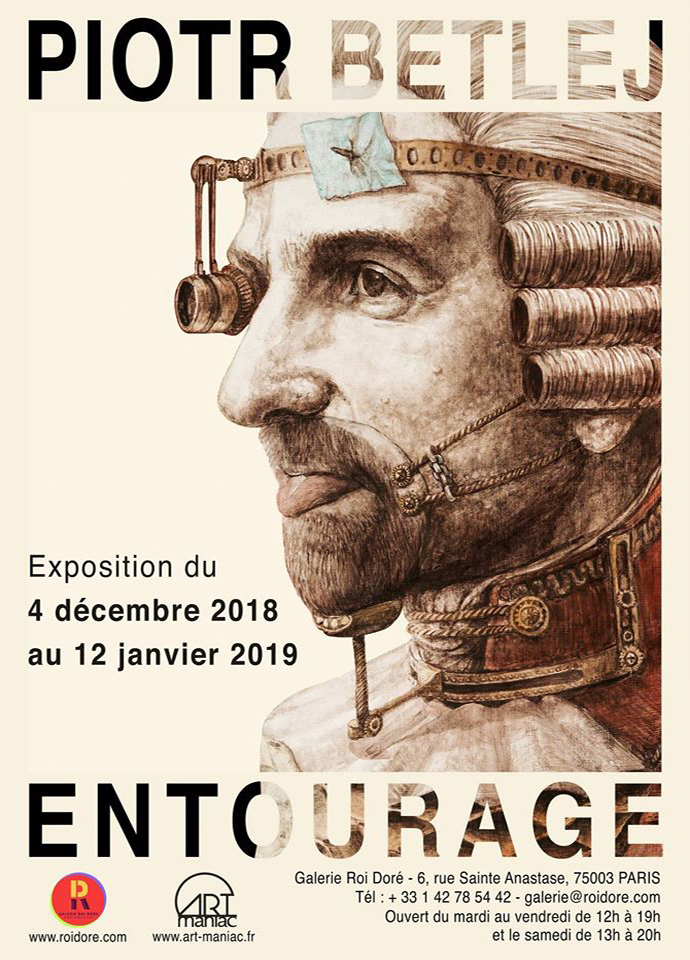 Piotr Betlej "Entourage"
The exhibition presents a series of thirty portraits painted by the artist in 2018. This cycle is intimately linked to the very place of the Gallery Roi Doré as well as more widely to the city of Paris, where the artist settled in 2001. This cosmopolitan city, in which different eras mix and coexist, becomes a major source of inspiration for the artist. Piotr Betlej gives a new dimension to the portrait art, combining in his works a range of colors and an atmosphere referring to the "Steampunk" trend – the visible mechanisms on portraits symbolize technical progress, research and exploration of the world – and "an architecture, sophisticated costumes, grace, and elegance". Through these paintings, the artist visually recreates the physiognomy, the look and even the character of a unique person.

Piotr Betlej was born in 1972 in Jaslo (Poland). He studied at Fine Arts School in Jaroslav (1988-1993), then at Popular University in Wzdow, in the "handicraft" section (1994-1996). Since 2001, he lives in France. He practices figurative painting and drawing and is also interested in sculpture and in various decorative crafts techniques such as stucco decoration, ceramics, interior design. He participated in numerous solo and group exhibitions, among others in Poland, France, the USA, Slovakia, and Ukraine. Since 2007, he exhibits his works alongside "Emotionalists" – an international art group founded by Lubomir Tomaszewski in the USA in 1994.
Exhibition from December 4th, 2018 'till January 12th, 2019.
Opening on December 1st, 2018.